Hiscox announces York office plan and 300 new jobs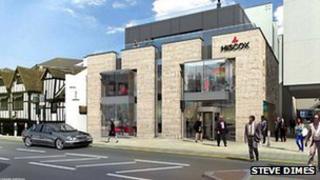 Up to 300 new jobs are to be created after an insurance company confirmed plans for a new UK office in York.
Hiscox said it would move into temporary offices in February 2013 and would transfer to purpose-built offices in 2014.
The new offices would be built on the council-owned Hungate site. The council intends to sell the site to developer, S Harrison Group.
Harrison said it also planned to build an £18m hotel on the site.
Steve Langan, managing director for Hiscox UK, said: "This is a significant investment for us, which will see 300 professional jobs come to the city.
"We looked throughout the UK for a new location, but were swayed by York's unique combination of excellent infrastructure, well educated workforce and quality of life."
The sale of the Hungate site is expected to be considered by the Labour-controlled council in October.
Ann Scott, managing director of S Harrison Group, said the proposals for an £18m, 262-bed hotel would create a further 100 jobs.
"If we get an operator signed up and swift planning approval the new hotel would be completed for the 2015 season," she added.