Flood-hit bridges in North Yorkshire remain closed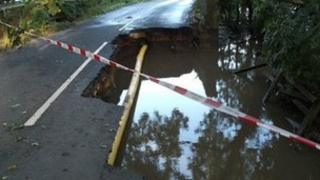 Officials say they are working "round the clock" to reopen bridges and roads closed by flooding in North Yorkshire.
Highways officers said work had been hampered by the time it was taking for river levels to drop.
Bridges at Skipton on Swale, Thornton and Cawood and several minor roads remain shut.
At the height of the floods, the worst to hit the county in more than a decade, more than 70 roads and bridges were closed.
The bridge which carries the A61 at Skipton on Swale and the bridge at Thornton, which carries a minor road over the Swale, remain closed because the river level is too high for specialist diving teams to make underwater structural checks.
'Still unsafe'
The swing bridge over the River Ouse at Cawood also remains closed as the road through Kelfield Ings, beyond the bridge, is still under water.
The Ings are used as a flood plain to protect Selby and the water can take up to two weeks to drain, the Conservative-controlled county council said.
Gareth Dadd, North Yorkshire County Council cabinet member for highways, said: "Highways teams have been working round the clock during the floods to keep the network moving wherever possible over the past week.
"Where roads are still closed it is because flood levels this time have been slow to drop due to the sheer volume of water we have had to deal with and because roads and bridges are therefore still unsafe to use."