Lydia Bishop death: York nursery to close permanently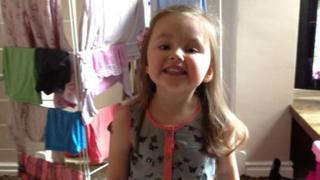 A nursery in York where a girl died is planning to close permanently.
Lydia Bishop, three, died after becoming entangled in a rope on a slide in a play area at the nursery at York College on 17 September.
Two members of staff have been arrested and bailed while an investigation continues by police, Ofsted and Health and Safety Executive.
The college said the proposal to shut was in light of the "complexity of the ongoing police investigation".
Last month, college principal Dr Alison Birkinshaw said the nursery would remain closed until November.
A letter has now been sent to parents informing them of the proposal to shut permanently.
In a statement, the college said: "The college recognises that this proposal will be disappointing for many parents, who were hoping that the nursery would re-open, as previously intended, on November 5.
"However, the circumstances are such that the college feels that it is right to remain closed."
The college said along with City of York Council it was working with parents to help the transition to another nursery.
The statement added: "The college has said it will continue to do all it can to support those affected including the nursery staff and parents.
"The thoughts of everyone at York College remain with Lydia Bishop and her family."