Whitby landslip concerns raised by mayor John Freeman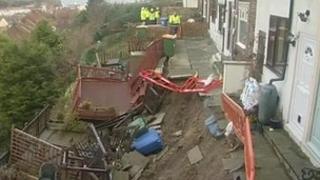 The mayor of Whitby has called for urgent action to be taken over recent landslips in the North Yorkshire town.
At an emergency meeting called by the town council, John Freeman said it had sent a "shockwave through the town".
A row of cottages are being demolished after a landslip at the end of November, and another affected properties on Henrietta Street.
But Scarborough Borough Council said it had spent "hundreds of hours" tackling the effects of the landslips.
Mr Freeman said a lot of residents who lived beneath the east cliff had attended the meeting at Pannett Park Art Gallery.
He said: "There is a lot of concern. Whitby is a closely knit community."
'Water in free-fall'
He said there remained a great deal of worry about the area beneath St Mary's Church and the threat to the 140-year-old Fortune's Kippers.
"Henrietta Street is another problem due to the drainage coming down the cliff.
"The drainpipe has been pulled away so the water is in free-fall down the cliff washing mud into buildings belonging to Fortune's Kippers. It is a parlous situation there.
"Water is still running down the cliff and it is very difficult to see what can be done. They are doing emergency work at the top of the cliff in St Mary's churchyard."
Representatives from the main utility companies attended the meeting and Mr Freeman said they had told residents they were carefully monitoring the situation.
Councillor Mike Cockerill, of Scarborough Borough Council, said: "We have already agreed to put up a new section of fence between two and three metres back from the cliff edge near the church clock tower, the cost of which will be met by us with a contribution from the church."