North Yorkshire Police seize 40,000 'fake' DVDs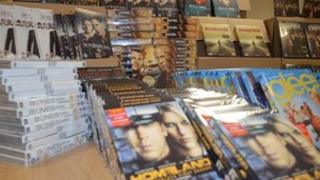 Police have seized more than 40,000 DVDs believed to be worth £200,000 from a house in North Yorkshire.
The DVDs were being sold on an internet shopping site and are thought to be fake, North Yorkshire Police said.
Officers said a man and a woman, both in their 30s, were arrested at the property, near Thirsk, and have been released on bail.
The discs included copies of television series such as Homeland, Glee, Supernatural and Bones.