Knayton A19 bridge 'snowball-hurlers' damage vehicles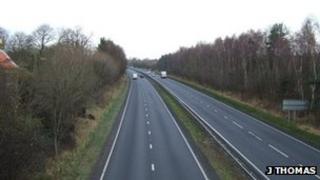 A car windscreen was shattered as traffic was struck by heavy "snowballs" thrown off a road bridge, police say.
The falling objects - too heavy for one person to carry - also badly dented another car's roof and hit two other car windscreens that did not break.
At least four of the "snowballs" were thrown from a bridge crossing the A19 dual carriageway at Knayton, North Yorkshire at the weekend.
PC Andrew Johnson said: "These were acts of utterly mindless stupidity."
A group of two or three people wearing hooded tops was seen on the bridge during the incidents.
"Throwing anything from bridges at passing cars has the potential to cause disastrous consequences," PC Johnson said.
"It is only through good luck that no one was seriously hurt or worse."
Anybody with information is asked to contact the police.