York Minster's giant 'orb' attracts new visitors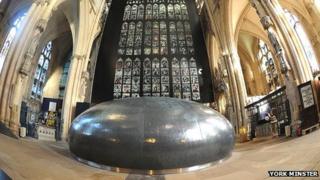 A giant metallic "orb" containing displays of medieval stained glass has helped York Minster attract almost 10,500 extra visitors in three months.
The orb, a gallery which opened in October 2012, shows the restoration of the minster's Great East Window.
Inside, visitors can see five newly-conserved glass panels from the window.
Figures from York Minster show a 21% increase in leisure visitor numbers in the last three months of 2012 compared with the same period in 2011.
Leisure visitors have risen from 50,260 to 60,733 during the three comparable months, according to the minster.
The orb allows visitors to get a close look at the works of medieval art before they are returned to the window in 2015.
Nicola Bexon, York Minster's director of marketing, said: "These figures really do exceed our expectations."
The stained glass was created in the 15th Century by artist John Thornton.