Pumps in place in Ryedale due to flood threat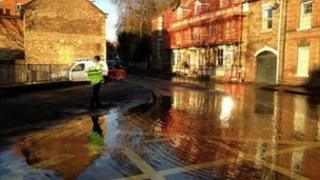 High-volume pumps have been set up in North Yorkshire as water levels rise after the rapid thaw of snow and further rainfall.
Silver Command, a multi-agency taskforce, has been set up in Ryedale, to monitor the threat of flooding and co-ordinate a response.
Pumps are in operation in Malton, Norton, Old Malton and Brawby, North Yorkshire Police said.
A number of properties were flooded by groundwater at the end of 2012.
Supt Glynn Payne, from North Yorkshire Police, said: "We have made the decision to reform Silver Command to ensure that we can all work together to deploy pumps and monitor the situation throughout Ryedale
"Both river and groundwater levels are continuing to rise and with more rainfall expected we are doing all we can to take the necessary precautions to protect properties and businesses throughout the district."
Supt Payne added the River Derwent was not expected to reach the same heights as it did in November.
Silver Command involves staff from North Yorkshire Police, North Yorkshire Fire and Rescue, North Yorkshire County Council, Ryedale District Council, the Environment Agency and Yorkshire Water.