North Yorkshire Moors Railway guard crushed by train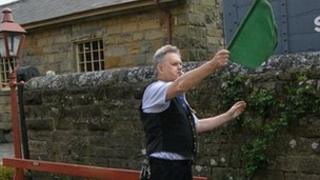 A steam railway enthusiast was crushed to death when a locomotive slipped into the wrong gear, trapping him between carriages, an inquest has been told.
Robert Lund, 65, was working as a volunteer guard on the North Yorkshire Moors Railway when he was fatally injured at Grosmont station last May.
The 65-year-old died almost instantly from "extreme" chest and abdominal injuries, Scarborough's coroner heard.
Mr Lund, from Beverley, East Yorkshire, had been uncoupling carriages.
The retired police officer unhooked some coaches and signalled the driver to move away. It is thought he then returned to the area between the carriages, coroner Michael Oakley heard.
Emergency brake
Another volunteer, Norman Ash, said the locomotive unexpectedly moved off in the wrong direction.
Mr Ash said it was possible he did not lock a reversing lever into place, which could have prevented the locomotive from slipping between forward and reverse.
"I slapped the emergency brake on. I was more concerned we were going to collide with the coaches we'd just come off.
"I never even thought about Mr Lund going back between the coaches. There was no impact at all.
"At that point the fireman said to me, 'is the guard on your side?'. I said 'no'."
Mr Ash said he got off the footplate and found Mr Lund "trapped".
'Extreme force'
He said there was no way of freeing Mr Lund so he contacted the signalman and told him to call the emergency services.
"The next thing I knew, the operations manager Mr Hugill came out," he said.
"I think he shouted, 'Bob, Bob', a few times but there was no response."
Mr Ash said they moved the train to release Mr Lund before paramedics and police arrived.
Pathologist Nigel Cooper said Mr Lund died of chest and abdomen injuries.
He told the inquest: "The injuries indicated an extreme crushing force. The internal injuries were very severe. I think death must have occurred very quickly due to the severity of the injuries."
The inquest continues.