No inquiry over Allerton Park incinerator plans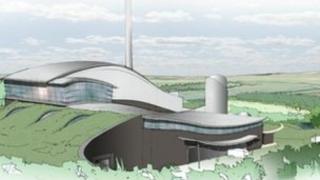 A public inquiry will not be held into controversial plans for a waste incinerator in North Yorkshire.
The plant at Allerton Park, near Knaresborough, is expected to cost £1.4bn over 25 years. It was granted planning consent by the county council last year.
More than 10,000 people had signed a petition opposed to it.
The Department for Communities and Local Government said it believed the decision should be made at local level.
It added the secretary of state believed the application did not conflict with national policies.
Amey Cespa has been awarded a contract to build and manage the plant by North Yorkshire County Council and the City of York Council.
It would be built using £65m of private finance initiative funding and the Conservative-controlled county council said it would prevent 90% of North Yorkshire's household waste from going into landfill.
Protesters, including the North Yorkshire Waste Action Group, claim the scheme is too big and is designed to burn far more waste than North Yorkshire produces.
There are also concerns about traffic congestion and some local residents have claimed the plans have already devalued their homes.
Bob Schofield, from the action group, said protesters would continue their fight and were considering a judicial review.
"We're appalled by the secretary of state's decision," he said.
"As far as we're concerned this fight certainly isn't over."
In a statement, the Conservative-controlled county council said: "We will now continue our negotiations on the final contract with Amey Cespa.
"Council members will then be asked to consider the contract and confirm that the project remains affordable. This is likely to take some weeks or months."
Andrew Cousins, from Amey Cespa, said: "It's going to save taxpayers of North Yorkshire a considerable amount of money and invest a lot of money in the local area."