York residents 'concerned' over wheel extension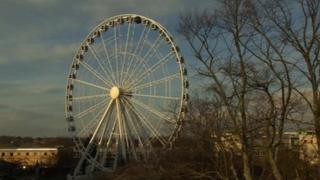 Residents living near an observation wheel have objected to plans to extend its operation by six months.
The York Wheel, operated by Wheels Entertainment Ltd, is a temporary structure and was supposed to stop at the end of January.
Some people living in nearby apartments claim the 175ft (53m) wheel is an invasion of their privacy.
The company said it did not believe people could see into the flats while travelling on the wheel.
It wants the wheel to remain in place for the summer as it had proved a "popular and attractive addition" to York's tourist facilities.
The City of York Council said a date for the application to be considered had not been set.