North Yorkshire Moors Railway death: Family to sue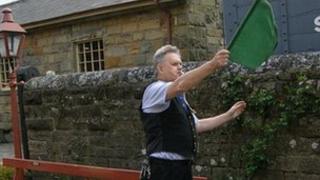 The family of a steam railway volunteer crushed to death between carriages is seeking "substantial damages" from the railway.
A jury at North Yorkshire Coroner's Court in Scarborough found Robert Lund's death was a tragic accident.
The retired police officer died almost instantly from "extreme" chest and abdominal injuries on the North Yorkshire Moors Railway on 21 May.
Mr Lund, from East Yorkshire, was fatally injured at Grosmont Station.
He was a retired Humberside Police officer, from Beverley, and working as a volunteer guard on the railway.
Mr Lund's widow, Patricia, said in a statement: "The family takes comfort in the fact that Bob died doing something he loved."
The family's lawyer, Kevin Hughes, said the verdict was "expected".
"It reinforces our view that a civil claim is likely to produce substantial damages," he added.
The jury had heard Mr Lund was helping volunteer train driver Norman Ash shunt and uncouple carriages at the station shortly before the fatal accident.
Mr Lund unhooked some coaches and signalled the driver to move away, and it is thought Mr Lund returned to the area between the carriages.
However, the locomotive unexpectedly moved off in the wrong direction, Mr Ash told coroner Michael Oakley.
'Improve safety'
Mr Ash, a retired professional train driver with more than 50 years' experience, said it was possible he did not lock a reversing lever into place, which could have allowed the locomotive to slip between forward and reverse.
Pathologist Dr Nigel Cooper said Mr Lund suffered severe crushing injuries to his chest and abdomen and he would have died "very quickly".
Accident investigators have told the hearing they had complete confidence in the actions of both Mr Lund and Mr Ash.
Chris Hall, of the Rail Accident Investigation Board, said that Mr Lund would have had "no reason to believe" the train would change direction, which was most likely caused by the driver forgetting to lock the reverse lever.
The North Yorkshire Moors Railway expressed its sympathies to Mr Lund's family and said it was "understandable" the family had launched civil proceedings.
General manager Philip Benham said: "We've looked at how we can strengthen our procedures in light of this tragedy and if we find we can improve safety further, we certainly will."