Filey School swimming pool closure angers parents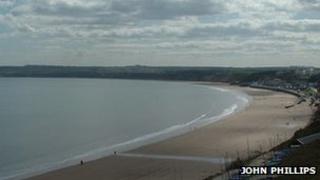 Parents have vowed to fight the planned closure of the only public swimming pool in a North Yorkshire seaside town.
The pool at Filey School is set to close at the end of March.
Parents, whose children belong to the local swimming club, have blamed the closure on years of underfunding by North Yorkshire County Council.
The Conservative-run council said the decision had been made due to constraints on the school budget and high running and maintenance costs.
'We are frightened'
Graham Ford, chairman of the Filey and District Swimming Club, said: "In a seaside community, where we have children who are obviously close to water all the time, it is important that we teach as many children as possible to swim.
"It gets them off the streets, gives them something to do and keeps them fit and safe."
Parents in Filey have formed a group to fight the closure which has attracted 700 members.
One of them, Stuart Bowes, said: "The repercussions from this will go on for years. We are frightened that once it has gone we won't get anything like it for tens of years.
"The blame should lie with the county council. They have underfunded the place for years and now we are seeing the outcome."
The school declined to comment, but the council said it had been a "difficult" decision for the governors.
The authority said investing further in the pool would have been at the expense of the education of students at the school.