Leicester 'not trusted' with King Richard III's remains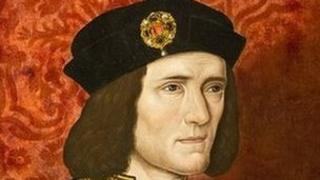 The leader of a Yorkshire council has claimed the city of Leicester is not to be trusted to look after the recently discovered remains of King Richard III.
Scarborough Borough Council's Conservative leader Tom Fox said Leicester had "misplaced" the monarch for more than 500 years.
The accusation is part of a bid to get the skeleton buried at York Minster.
Leicester mayor Peter Soulsby said "the decision has already been made" to bury the king at the city's Cathedral.
Richard III's remains were found underneath a car park in the city, following an archaeological dig by the University of Leicester.
Mr Fox said the last Plantagenet king of England had strong ties to Yorkshire and Scarborough.
He said: "Scarborough's history would make very different reading if it wasn't for the influence of Richard III and there is an argument the Yorkshire connection to Richard is at its strongest in Scarborough which is why we fully support the campaign to bring Richard III home.
"It's only fitting Yorkshire is his final resting place.
"To be perfectly blunt, the people of Leicester misplaced him for more than 500 years.
"Would we really wish to entrust his remains to them again? I think not."
Various organisations in Yorkshire have joined forces to campaign to overturn the decision to rebury the king in Leicester.
Kersten England, chief executive of York City Council, said she had written a letter to the Queen to put forward the city's case.
An online e-petition to the government, pushing for the king to be buried in York, has received more than 10,000 signatures.
In response to Mr Fox's comments, Mr Soulsby said: "All the permissions have been granted and the various authorities involved have agreed that the interment will take place in Leicester."