Skipton flood defence scheme to start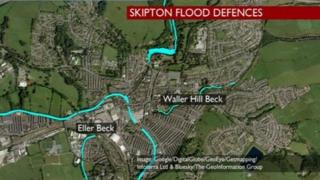 A flood defence scheme to protect hundreds of homes and businesses in Skipton is to start this year.
The government said it will provide £7.6m towards the £9.7m project with the remainder being funded locally.
The Environment Agency said parts of the town had long history of flooding from the River Aire at Eller Beck, Waller Hill Beck and Ings Beck.
The Department for Food, Environment and Rural Affairs (Defra) said it would protect more than 465 properties.
The Environment Agency said the flood alleviation scheme for the town was still being developed.
It said it aims to provide improved protection to much of the town centre by creating two upstream water storage areas that will limit the flow of Eller Beck and Waller Hill Beck through the centre of Skipton.