RMT claims East Coast Mainline gap 'threatened' safety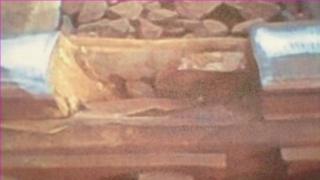 A fresh gap in a railway line has been found just two months after a similar one was uncovered nearby.
The RMT union said the 6in (15cm) gap on the East Coast Mainline at Hambleton South Junction near Selby could have derailed a train.
The gap was similar to one found at Colton Junction near York in November.
Network Rail said a dip, found on 17 January, was scheduled for repair on 2 February but as the line deteriorated a repair was made on 1 February.
The company said no staff or passengers were put at risk.
'Risking tragedy'
A spokesperson said: "Following our well-tried and tested standard industry procedure to remedy such dips, we scheduled an intervention to repair this dip on the Saturday night of 2 February.
"Unfortunately the track deteriorated more quickly than is to be expected and, on discovering the broken rail, all traffic was stopped immediately while a repair was carried out."
Bob Crow, RMT general secretary, said: "This shocking new picture highlights the reality on Britain's railways today - staffing, inspections and track renewals have been cut in the dash to save money.
"This picture, following on from similar evidence exposed by RMT late last year, shows we are dicing with death and risking another major rail tragedy."
Network Rail said the way the incident was managed was in "no way" affected by changes to staffing levels.
The company added: "Safety issues will never be compromised in the name of managing costs."
The Rail Accident Investigation Branch is investigating the crack at Colton and another one at Corby Glen in Lincolnshire which was reported in September.