York Hospital closes wards and cancels operations due to norovirus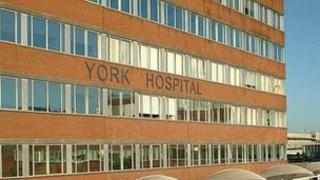 Four wards have been closed and some operations cancelled at York Hospital because of an outbreak of Norovirus.
Six other wards have also been affected but are still taking admissions.
Chief nurse Libby McManus said the closures meant 35 beds were unavailable, putting "enormous pressure on the system".
Ms McManus said some non-urgent elective operations had been cancelled and the situation would be reviewed "day by day".
"Visitors can play a big part by staying away if possible. We would urge visitors to think carefully before paying any non-essential visits at this time," she added.