Malton minor injuries unit opening hours rethink welcomed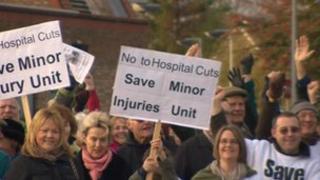 Campaigners in North Yorkshire have welcomed a proposal to reopen a minor injuries unit (MIU) at weekends as a "positive step".
In December, opening hours at the unit at Malton hospital were reduced to weekdays, 9am to 5pm, to save money.
Ten thousand people signed a petition opposing the move.
The Scarborough and Ryedale Clinical Commissioning Group (CCG) said the rethink followed a review of the unit and the impact of the reduced hours.
Liberal Democrat councillor Lindsay Burr, who has led the campaign, said she was "absolutely delighted".
"We don't want to see this as a partial victory, we want to actually think that this is a victory and it's a step forward.
"The outcome that we needed was to keep the unit open and to keep the services there for the Ryedale people."
'Essential savings'
The decision to close at weekends was made by the county's primary care trust (PCT) as it tried to reduce an expected deficit of £12m by the end of the financial year.
That debt will be shared by the four CCGs which will take over responsibility for managing the county's health budget when the PCT is abolished in April.
Simon Cox, accountable officer for the Scarborough and Ryedale CCG, said: "We feel this proposal responds to the concerns raised by local residents whilst still helping our CCG to make essential cost savings.
"The feedback from patients has largely focused on the closure of the MIU at weekends. Coupled with our evidence that the MIU is well used during the day at weekends, we feel it is important that we look at ways to reinstate the service at these times."
The CCG said maintaining the closure of the unit during weekday evenings would save about £300,000 a year.
The group will discuss the unit's future at a meeting on 27 February and, if the plans are approved, a four-week consultation will begin in March.