Claro barracks closure plan 'a hammer blow' to Ripon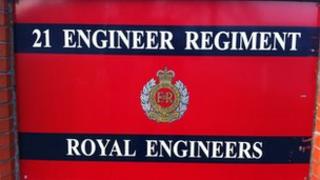 The decision to close an army base in Ripon is a "hammer blow" to the city, a church leader has said.
More than 600 21 Engineer Regiment soldiers and their families live at the North Yorkshire city's Claro base which has been earmarked for closure in 2017.
The proposal is part of a Ministry of Defence shake-up to accommodate troops returning from Germany.
The Dean of Ripon, the Very Reverend Keith Jukes, said it was a "disaster for the community here".
He said Ripon was still recovering from the loss of hundreds of students when its York St John College campus closed in 2002.
"It does impact on every single area of city life in Ripon and not least on the economy and we are already, with every other community in Britain, feeling the effects of the recession," he said.
"This has really come as a hammer blow."
Business fears
Andrew Williams, the Mayor of Ripon, said: "It's clearly very disappointing news for a city which has had an army barracks for well over a century.
"I think it's very damaging to the city. It's going to be a major issue."
Taxi driver Bob Turner and electrical shop owner Stephen Craggs said they feared for their businesses as the soldiers and their families were regular customers.
Mr Craggs said he hoped some or all of the money made when the Ministry of Defence sells off the site could be reinvested in Ripon.
As part of the reorganisation, troop numbers at Imphal Barracks in York and at Catterick in North Yorkshire will increase.
Hugh Bayley, Labour MP for York, said: "At a time when the army has been very, very sharply downsized... it's good that in York the numbers will increase.
"Overall for North Yorkshire, although it's an enormous change for Ripon and quite obviously unwelcome, the numbers in the county will go down slightly but not greatly given the downsizing of the army."