Army medics receive freedom of city of York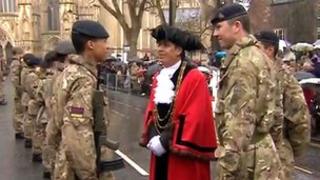 Army medics who served in Afghanistan have been given the freedom of their home city in a special ceremony.
Fifty five soldiers from 34 Field Hospital, based in Strensall, York, marched through the city accompanied by the Heavy Cavalry and Cambrai Band.
York mayor Councillor Keith Hyman said the regiment had worked hard to make York proud since it was formed in 1996.
Since its formation, the regiment has served on operations to Bosnia, Kosovo, Sierra Leone, Iraq and Afghanistan.
Commanding officer Lt Col Jaishan Mahan said: "We have always maintained close links with the city, especially with the local healthcare trust and the community in Strensall.
"We are very grateful to the people of York for granting us the freedom of the city.
"I know it means a great deal to everyone in the unit as it confirms our place in a community we very much regard as home."