Consultation starts on North York Moors mine plan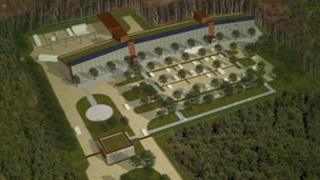 A public consultation has started on plans to build a potash mine in the North York Moors National Park.
Sirius Minerals hopes to build the mine head on farmland south of Whitby.
The company said test drillings indicated the area contained some of the world's biggest deposits of potash, which is used mainly in fertilisers.
The project needs the approval of the North York Moors National Park Authority.
The developer said the mine would create 706 jobs when full production was reached in 2024.
'National need'
Chris France, of the North York Moors National Park Authority, said government policy was to refuse planning permission unless there were "truly exceptional circumstances".
"Those circumstances are about the national need," he said.
"Is the national need for these sorts of developments so great that it overrides the national need to protect national parks?"
The proposed mineshafts would be sunk 5,577 ft (1,700m) into the park.
Plans also include two 27-mile (44km) pipelines, buried 5ft 11ins (1.8m) beneath the ground to pump the mined potash to Teeside for processing and onward shipping.
Speaking at the public meeting in Ravenscar, Graham Clarke, operations director for Sirius Minerals, said the only way to access the potash was from within the national park.
He said: "What we've done is spend a lot of time engaging with experts taking advice and we believe we have come up with a design for the mine that is as environmentally sensitive as is possible."
A decision on whether to approve the mine is expected in the summer.