Ex York nursery worker charged over girl's playground death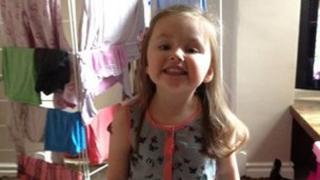 A former nursery worker has been charged over the death of a three-year-old girl in a playground in York.
Lydia Bishop, three, died after becoming entangled in a rope on a slide in a play area at the York College nursery on 17 September.
North Yorkshire Police said a 24-year-old woman would appear at York Magistrates' Court on 8 April charged with gross negligence manslaughter.
York College will also be summonsed to court for health and safety breaches.
Det Ch Insp Nigel Costello said: "This has been a very distressing case for everyone involved, not least for Lydia's family who have suffered an extremely tragic loss."
Lydia was attending the nursery for the first time when she was injured while playing in the outside play area.
She died in hospital later that day.
In a statement, York College said: "We have just been informed by North Yorkshire Police that one of our former nursery staff has been charged with gross negligence manslaughter in relation to the tragic death of Lydia Bishop.
"We also understand that York College will be asked to appear in court for health and safety breaches.
"While the legal process is ongoing it would be inappropriate to comment further at this time.
"In the aftermath of this tragedy the thoughts of everyone at the college remain firmly with the family of Lydia and all of those affected by the events of 17 September 2012."
Following her death, college principal Dr Alison Birkinshaw said the nursery would remain closed pending the police investigation.