Castle Howard owners win fight to avoid tax on painting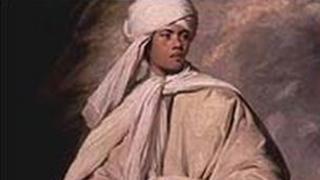 The custodians of a stately home have won a legal fight to avoid paying tax on the sale of a painting worth £9.4m.
Sir Joshua Reynolds' Portrait of Omai was on display at Castle Howard in North Yorkshire for more than 200 years until it was sold at Sotheby's in 2001.
The executors argued the painting was merely a "plant" used to boost visitors and should be exempt from a tax levy.
A High Court judge ruled it fell into the category of "plant and machinery".
Under capital gains tax rules, such plants are "wasting assets" and exempt from capital gains.
The painting, which was bought by the Earl of Carlisle in 1796, was sold at Sotheby's in part to fund the divorce of current owner Simon Howard.
The subject of the painting was a Polynesian youth who was feted as a noble savage by London society during the late 18th Century.
Business 'unviable'
Omai was discovered by explorers on an island near Tahiti and brought back to England in 1774, where his exotic looks and refined manner were reported to have caused a sensation.
He was granted an audience with King George III and invited to attend the state opening of Parliament.
Portrait of Omai was part of the estate of Sir George Howard who died in 1984.
Ever since the sale, his executors have been arguing with the tax authorities over whether the £9.4m should be subject to capital gains tax.
The executors had argued that the painting was a major attraction that drew in the public and that without it the stately home would have been unviable.
Lawyers for Her Majesty's Revenue and Customs argued that its sale did not in fact lead to any falling off in visitor numbers.
But Mr Justice Morgan accepted the executors' plea and ruled that no tax was therefore payable on the sale.