Scarborough landslip: Repairs to start in April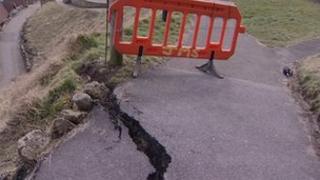 Work to repair a huge crack in a section of a cliff top path in Scarborough is expected to start in April, the council said.
The crack formed between The Spa and The Clock Cafe at South Cliff, after a landslip earlier this month.
It appeared half a mile from where Holbeck Hall Hotel once stood before it was destroyed by a landslip in 1993.
Scarborough Borough Council said the recent landslip was a "symptom of the prolonged wet weather".
The path is currently closed to the public.
The council said the crack posed no great risk and work to repair the pathway would start from the 15 April, after the Easter holiday, to minimise disruption.
In a statement, the council said: "The path is the only disabled access route from the South Cliff to the seafront on that side of the cliff lift - it's our intention to reinstate that footpath.
"We will also be re-grading, stabilising and reinforcing the slope."
The landslip is the latest in a series to affect the North Yorkshire coastline.
A row of cottages was demolished last year following a landslip in Whitby in November, which affected a number of properties nearby.
Homes were demolished and a number of other properties were at risk of sliding into the sea after a series of landslips at Knipe Point, which overlooks Cayton Bay.