Archbishop of York conducts 11 outdoor baptisms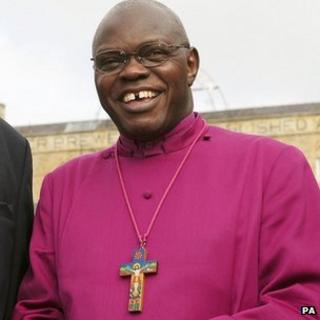 Eleven people are to be baptised by the Archbishop of York by being totally immersed in a large tank of water.
Dr John Sentamu will be baptising the Christians of different denominations outside St Michael le Belfrey Church, York, from 14:00 GMT.
One Voice York has organised the service, now in its seventh year.
Archbishop Sentamu said: "Easter is fantastic news for us all as it reminds us that it's never too late to make a fresh start."
The archbishop and the candidates' own church leaders will be in the water for the baptisms.
Matthew Fletcher, 22, is among the people being baptised he said: "Now I feel I am old enough to understand.
"I've had enough life experience and I feel I can stick to the promises made at baptism, so now's the right time to be baptised."