North Yorkshire city holds parade for returning soldiers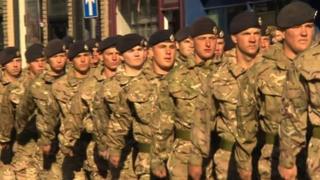 More than 400 soldiers have marched through Ripon to mark their return from a tour of duty in Afghanistan.
The troops from 21 Engineer Regiment paraded through the city before a medal ceremony at Claro Barracks.
Two soldiers attached to the regiment were killed during the deployment in Helmand province.
Last month, the Ministry of Defence announced the closure of the regiment's Claro Barracks in 2017 with the unit being moved to a base in Catterick.
Capt Brian Goodwin, from 21 Engineer Regiment, described the support from the people in Ripon as "absolutely crucial".
"It's the thing that keeps you going," he said
"The troops feel it. There is tangible evidence of the support from the population and it's great when you can localise it."
'Great fillip'
As part of the ceremony, soldiers from the regiment also attended a service at Ripon Cathedral to remember the two soldiers who died in Afghanistan.
In January, 23-year-old Sapper Richard Walker was shot dead by a member of the Afghan National Army as he undertook construction work in Helmand.
Last September, Capt James Townley died in a shooting incident not thought to be the result of hostile action.
Councillor Mick Stanley, the Mayor Elect of Ripon, said it was a poignant service.
"It's a remembrance of those who didn't come back," he said.
"Those two soldiers who didn't come back from Afghanistan and a great thank you for all those that did come back to their wives and sweethearts in the city.
"It will be a great fillip for all those people who were waiting patiently back home."