Mallard locomotive gets engineering heritage award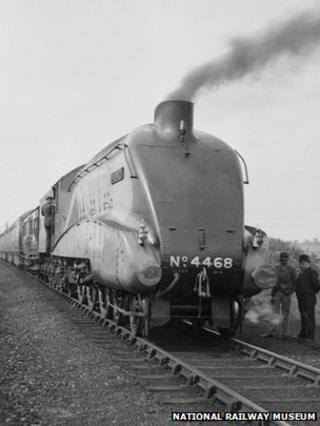 A record-breaking steam locomotive has been honoured with an engineering heritage award.
Mallard has been recognised by the Institution of Mechanical Engineers as "an example of British ingenuity".
The locomotive, displayed at the National Railway Museum (NRM) in York, broke the world speed record in 1938 for steam traction.
Its aerodynamic design helped it reach the record 126mph (203km/h) on what is now the East Coast Main Line.
Mallard was driven by 61-year-old Joe Duddington, of Doncaster, on its record-breaking run.
It was designed by Sir Nigel Gresley and built in Doncaster in 1938. It is one of six remaining A4 class locomotives in the world.
By the time it retired on 25 April 1963, it had covered almost 1,500,000 miles (2,400,000 km).
The Engineering Heritage Award has been given on the anniversary of the locomotive's designer, Sir Nigel Gresley, death 72 years ago.
'Worthy addition'
John Wood, chairman of the Institution's Engineering Heritage Committee, said: "Mallard is a worthy addition to the recipients of Engineering Heritage Awards, which also includes the E-Type Jaguar, Tower Bridge and the Vulcan Bomber."
Bob Gwynne, associate curator at the National Railway Museum, said: "Sir Nigel Gresley travelled widely and brought back ideas - he put them all together in that machine.
"When it steamed out of Doncaster it was at the cutting edge of locomotives."
In July, Mallard will be joined by the other five surviving A4 locomotives - Dominion of Canada, Dwight D Eisenhower, Union of South Africa, Bittern and Sir Nigel Gresley - for the first time at the NRM as part of the engine's 75th anniversary celebrations.