Locomotive donated to North Yorkshire volunteer railway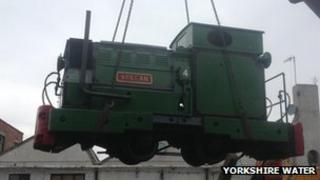 An eight-tonne locomotive has been donated to a volunteer-run railway in North Yorkshire.
The Rushton and Hornsby diesel engine had been on loan from Yorkshire Water to the Abbey Light Railway in Leeds but was left homeless when the railway's owner died.
The water company said the engine was donated to the Embsay and Bolton Abbey Steam Railway to keep it in the region.
The railway said it was "delighted to accept the donation".
Built in the 1940s, the engine runs on two-foot gauge tracks.
It was originally used by Yorkshire Water to pull wagon-loads of dirty sand around two water treatment works in Bradford. This railway was decommissioned in 1972.
The locomotive will make its first public appearance at its new home at the beginning of May.