Gerry Gibson pit death inquest: Miners' rescue attempts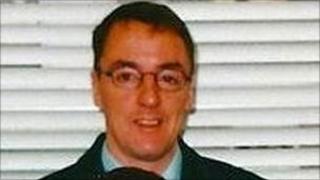 A miner has told an inquest how he and others tried to dig two trapped colleagues from a pile of rubble after a roof collapse at a Yorkshire pit.
Gerry Gibson and Philip Sheldon were buried by a rock fall while working 2,600ft (800m) underground at Kellingley Colliery in September 2011.
Mr Gibson died from asphyxiation while Mr Sheldon suffered minor injuries.
Geoffrey Winstanley said he and fellow miners were digging with their bare hands to try and free Mr Gibson.
Mr Winstanley, who was working in a team of four with Mr Gibson, Mr Sheldon and Graham Brown at the time of the roof collapse, said: "There was a big bang and I turned round, I couldn't see anything because of the dust and debris."
Previous collapse
He described how while they were digging Mr Sheldon out they realised Mr Gibson was missing.
Mr Winstanley said: "I said to Phil 'Where's Gerry?', he said 'He was stood by the side of me'.
"I looked to the side of him and there was just a big pile of rubble, no physical signs of Gerry at all.
"Once we realised Gerry was missing, we all dived over and started digging.
"We didn't know how deep it was, we were just using our hands."
Mr Winstanley, who was operating machinery supporting the roof at the time, described the situation as "horrendous" and said they eventually managed to uncover Mr Gibson's face and head but there were no signs of life.
The inquest was told there had been another roof collapse at the mine five days earlier.
Mr Winstanley and Mr Sheldon said they were aware of the previous collapse but had not received a specific safety talk and were not aware of an exclusion zone within the mine.
The jury inquest in Selby is due to continue for the rest of the week.