North Yorkshire wind farm 'would decimate villages'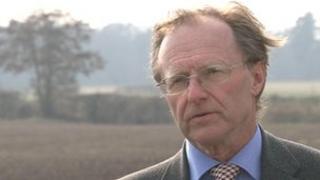 Campaigners say a 14-turbine wind farm planned near Selby in North Yorkshire would "decimate" nearby villages.
Developer Prowind wants to build the 125m (410ft) high turbines on land close to the villages of Birkin, Gateforth and West Haddlesey.
A Selby council planning meeting deferred the decision on whether to approve the application.
Prowind said it would work with the community and the council on any issues that arose.
The proposed turbines on Wood Lane, Birkin, would stretch for two miles across open countryside.
They would be capable of generating 35 megawatts of energy, enough to provide electricity for 21,000 homes.
Aircraft risk
Resident Sue Kemmery said the sight and noise of the turbines would have a huge impact.
"The turbines would decimate the villages.
"In Gateforth you will be able to see them from virtually any part of the village, you will be able to hear them, particularly at night."
Howard Ferguson, chairman of an action group opposing the plan, said: "This wind farm places too many turbines too close to homes.
"One home has 13 turbines within 2km (1.2 miles), which is just unacceptable."
A report to the planning committee has recommended the plan be refused on grounds including unacceptable noise levels at a property in Birkin and another in West Haddlesey.
It also states the applicant did not provide enough evidence to satisfy the council with regards to the scheme's visual impact, construction noise and risk to air traffic control services to aircraft using Robin Hood Airport.
Keith Brooks, managing director of Prowind UK, said he understood residents' concerns but added: "We have had professionals carry out an assessment of the landscape and they feel it would be a suitable location."
Planning officers at Selby council had recommended the application should be rejected.