Malton farmer barn-door-crush-death pair sentenced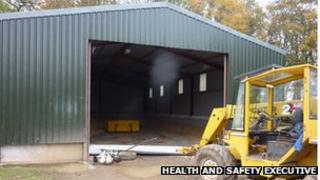 Two men have been sentenced for failing to safely fit a barn door that crushed a North Yorkshire farmer to death.
Robert Ireland, 71, died when the half-tonne barn door fell on him at his farm near Malton, in 2010.
Paul Halliwell, of Stockport, and David Whitaker, of Hyde, were sentenced to 200 hours community service each and both were ordered to pay £2,000 costs.
The men were convicted after pleading guilty to offences under the Health and Safety at Work Act.
The Health and Safety Executive (HSE) said the roller shutter door was installed at the grain store at Manor Wold Farm in July 2010.
It had been in place for nearly four months but had only used about a dozen times before the incident, according to the HSE.
Geoff Fletcher, an HSE inspector, said that "relatively simple methods" could have prevented the accident.
Both Halliwell and Whitaker pleaded guilty to the charges at Bradford Crown Court.