Fulford homes to be built on 1066 'battle site'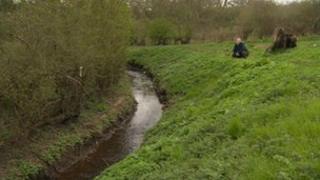 A new decision has been made to build more than 600 homes on the "likely" site of a 1066 battle.
The City of York Council planning committee agreed to development on land near Mitchell's Lane, Fulford, York.
English Heritage said the site at Germany Beck remained the "most likely candidate" for the Battle of Fulford.
Ben Hudson, an estate agent, said York had a great shortage of new homes and it was "increasingly difficult to get a foot on the housing ladder."
Outline planning consent for the scheme was granted in 2007 and a public inquiry into the development was held in 2006.
Details of the site's design, appearance and landscaping have now been approved.
Archaeological investigation
English Heritage said it had been the subject of extensive archaeological investigation and significant changes to the landscape had taken place since 1066.
The organisation said it was not possible to say that the battle site had been securely identified.
The battle was lost by the defending northern army but it forced King Harold to march north and defeat the invading Vikings at the battle of Stamford Bridge.
The clash at Fulford marked the beginning of the end of Anglo-Saxon rule.
Shortly after the two northern battles, the Norman invasion of 1066 was successful at Hastings.
Chas Jones, a battlefield historian, said: "We have a unique archaeological database here."
Mr Jones said there was evidence of the recycling of weapons on the Germany Beck site to re-arm for the next clash. The battle at Stamford Bridge was just days after Fulford.
"This is Pompeii as far as battlefields are concerned," he added.