North Yorkshire village unveils memorial to bomber crew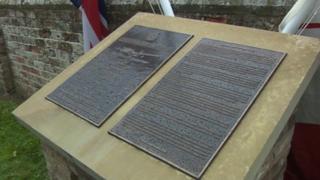 A memorial has been built in tribute to the crew of a Halifax bomber shot down over a North Yorkshire village.
Halifax NA612 was returning to its base at RAF Dishforth in the early hours of 4 March 1945 when it was attacked by a German night fighter.
All seven crew, six Royal Canadian Air Force men and one from the Royal Air Force Volunteer Reserve, were killed.
A stone memorial to the men has been erected in Brafferton, near Thirsk, close to the scene of the crash.
Roger Clements, clerk of Brafferton Parish Council, said: "We are recognising the effort that all of Bomber Command put in to conducting their part of World War II and, specifically, the Canadian crew that were in the Halifax that crashed near us."
'Fly past'
Villagers from Brafferton and Helperby gathered outside St Peter's church, Brafferton, where a representative of the Canadian Air Force unveiled the tribute.
The sister of 21-year-old flight engineer Sergeant Sidney Forster's family, the RAF volunteer killed alongside his six Canadian colleagues, was at the dedication.
A Lancaster Bomber made a fly past during the ceremony.
Halifax NA612 was part of the Canadian 1664 Heavy Conversion Unit based at RAF Dishforth.
It was part of a diversionary force tasked with confusing German commanders about intended targets.
The plane was returning to its base when it was shot down.
More than 55,000 Bomber Command aircrew were killed during Word War II, including 9,919 from Canada.
In February the Ministry of Defence announced it would recognise those who flew at least one operational mission over Germany and France for Bomber Command with a specially designed clasp.