Alistair and Jonny Brownlee launch Yorkshire triathlon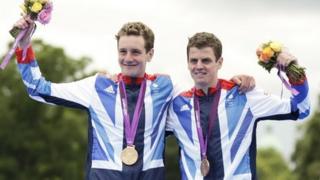 Olympic triathletes Alistair and Jonny Brownlee are to host their own triathlon in North Yorkshire.
The brothers said they wanted the event at Fountains Abbey and Studley Royal to be part of their "legacy".
The Brownlee Triathlon, comprising swimming, cycling and running, will take place at the site on 21 September.
The National Trust, which manages the World Heritage site, said it would be a "unique event".
The brothers, who live in West Yorkshire, said they felt the 800-acre (323-hectares) estate was perfect to launch their first triathlon.
Olympic gold medallist, Alistair Brownlee, said: "The whole area around Fountains Abbey is fantastic to train and a perfect fit for us. The paths and trails in the abbey's estate are a lovely setting for a run, with great views.
"The lanes close to the abbey are some of the best in the country for cycling. We're very lucky in Yorkshire to have some of the finest countryside around, and Fountains is a great place to see a lot of it."
The event will start with a 400m swim in Studley Royal Lake, a 10km bike ride through the medieval deer park before finishing with a 2.5km run through the water gardens and ruins of Fountains Abbey.
Jonny Brownlee, who won a bronze medal at the 2012 Olympics, said: "We want this triathlon to be part of our legacy and to see as many people take part as possible."
The Olympic triathlon event in 2012 comprised a 1500m swim, 43km bike ride and 10km run.
Alistair's gold was Britain's 19th of the London games.