Rudding Park helicopter crash deaths inquest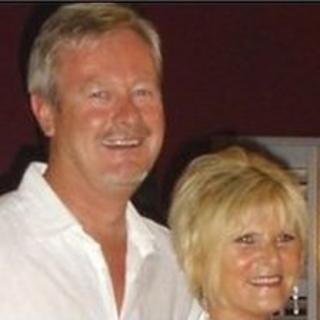 Witnesses watched in horror as a helicopter somersaulted and plunged to the ground killing the pilot and his wife, an inquest has been told.
Businessman Paul Spencer, 43, and his wife Linda, 59, the only passenger, were killed when they crashed in North Yorkshire in 2008.
Serious flaws later emerged in Mr Spencer's training the inquest in Harrogate heard.
Mr Spencer had picked up the Gazelle aircraft from Essex on the day he died.
He had flown back to the Rudding Park resort, near Harrogate, where the couple owned a lodge, North Yorkshire coroner Rob Turnbull said.
Floundering and falling
The entrepreneur from Brighouse, West Yorkshire, who had held his helicopter licence for just six weeks, took Mrs Spencer on a flight over nearby Knaresborough but lost control as they returned.
Bernard Reed spotted the helicopter floundering and falling and drove to the scene where he found another man already trying to clear branches and debris to reach the wreckage.
He said he had checked Linda Spencer first and could not find a pulse.
"Paul Spencer's lips were moving, but only for a split second, and that was it. There was nothing I could do," he added.
A post-mortem examination revealed Mrs Spencer died immediately of multiple injuries.
Mr Spencer may have survived for "a few breaths" after the crash but his multiple injuries were also so serious he could not have survived, a pathologist concluded.
Mr Reed said there were "really high gusts of wind" on the afternoon of the crash.
'Insufficient training'
Scott Woodford, another witness, said he thought Mr Spencer was performing some sort of stunt before realising he was actually about to crash.
Air accident investigators later highlighted "several areas of concern", Mr Turnbull told the jury at the four-day inquest.
The fact Mr Spencer got his licence after just 10 days of training was "not impossible" but "highly unusual", according to investigators.
Mr Turnbull added: "The conclusion of the experts in this case is that the cause of the crash is adverse weather conditions and the fact that the pilot had not received sufficient training to qualify for his licence."
The Civil Aviation Authority found that "the majority of flights" recorded as proof of training "did not occur", the jury heard.
The inquest continues.