Sirius Minerals signs China contract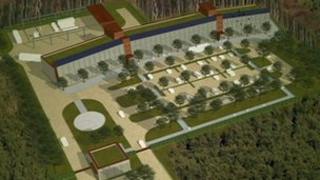 The company behind plans for a large potash mine near Whitby in North Yorkshire has signed a major deal with a Chinese firm.
Sirius Minerals said the contract with an agricultural products firm was for one million tonnes of polyhalite from the mine each year for 10 years.
The mineral is processed to produce potash, which is used for fertilizers.
Planning permission for the mine has yet to be granted by the North York Moors National Park Authority.
Sirius said the contract with Yunnan TCT Yong-Zhe Company Ltd would run from 2017 but said the value of the deal remained confidential.
Chris Fraser, managing director of Sirius, said: "This is a major milestone for the company that further demonstrates the market for polyhalite, supports the economics behind the project and will ultimately help to give confidence in the financing for construction."
Sirius has previously said test drillings in the area had shown some of the world's biggest deposits of potash lay beneath the North York Moors National Park.
The North York Moors National Park Authority is expected to consider the application for the mine this summer.
The Campaign for National Parks (CNP) has said it is "very concerned about the threat that this mine poses for the North York Moors".