York Castle Museum lottery grant funds WWI exhibition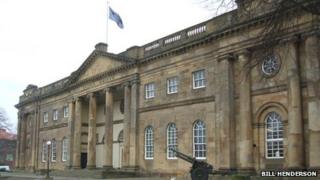 A major exhibition marking the centenary of the the outbreak of the First World War will be built at York Castle Museum.
The work is being supported by a £1.1m grant from the Heritage Lottery Fund.
The display, 1914: When the World Changed Forever, is part of a £1.7m development planned for the attraction.
Andrew Morrison, head curator at York Museums Trust, said "This is a huge project which will greatly enhance York Castle Museum."
'New dimension'
The First World War display will be housed in new exhibition space being built on the museum's first floor with existing office space moving to the second floor
Work on the display, which will combine items from the museum's military, costume and social history collections with new technology, will start in September and it is expected to open in June 2014.
Mr Morrison said: "The refurbished exhibition spaces will give the museum a new dimension and the ability to hold major temporary exhibitions - something which we have not had previously."
Other improvements at the museums include installing a lift to allow disabled access to the upper floors and creating a four-year long programme of activities to accompany the exhibition.
The remaining investment for the project will come from York Museums Trust funds.