Scarborough's Futurist Theatre may close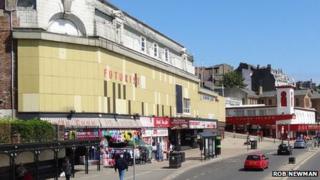 Scarborough's Futurist Theatre may have to close as it is "unsustainable" on its current site, a report has warned.
The report on the theatre is to be considered by the North Yorkshire resort's council cabinet on Tuesday.
The future of the seaside theatre has been unclear for a number of years and a report in June said it was "beyond the point" of refurbishment.
The theatre still stages concerts, shows and films, but is within an area earmarked for redevelopment.
There is an agreement in place with the current operator of the theatre until 31 December.
The report recommends closing the theatre if further negotiations with the current operators fail or an alternative solution cannot be found.
'Maintenance liability'
The redevelopment area under consideration runs from St Nicholas Street, through the King Street car park and Futurist Building to the Foreshore Road, and is approximately 4.2 acres (1.7 hectares) including the town hall.
Scarborough Borough Council currently pays the Futurist's operator an annual subsidy of £80,000.
The report by Nick Edwards, the council's director of business support, said both the theatre and town hall continued to present the council with an "unsustainable maintenance liability" that cannot be resolved without "significant financial investment".
The Futurist was bought by Scarborough Council in 1985 and in 2002 leased to current operators Brenda and Barrie Stead.
Entertainment began at the site in 1903 with the current building dating from the 1920s.
In December 1963 the Beatles performed at The Futurist and other stars who have trodden the boards at the 2,000-seat theatre include Morecambe and Wise, Shirley Bassey and Ken Dodd.