Holographic guide to York launched for smartphones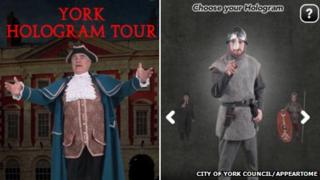 Visitors to York can be taken on a tour of the city's streets by some of its most famous faces and historic characters via a new smartphone app.
York's Hologram Tour features appearances from Gunpowder Plot perpetrator Guy Fawkes, Dick Turpin's hangman and Richard, Duke of York.
The 'UltraReality' technology allows people to point their phone at a trigger point to launch the cameos.
City councillor Sonja Crisp said it would "broaden the visitor experience".
The app has been developed for City of York Council and the Yorkshire Air Museum by technology company Appeartome based at York University's science park.
Visitors to the museum will be able to hear from 19th Century Yorkshire aviation pioneer Sir George Cayley, 'bouncing bomb' innovator Sir Barnes Wallis, and legendary aviator Amy Johnson.
'Game-changing'
Once the holograms have finished their performance, they can be photographed alongside the app user or their friends.
Museum director Ian Reed Director said: "To have your picture taken alongside animated portrayals of Sir Barnes Wallis, Neville Shute or even a wartime bomber crew member whilst they tell you about their experiences is something quite remarkable and sure to capture the imagination."
Appeartome CEO Chris Knight described the technology behind the app as "game-changing" and with a variety of uses.
He added: "As we were perfecting the complex technology, we just looked out across the York skyline and thought what a wonderful opportunity.
"We realised we were in one of the finest cities in the world so, what could be better than creating our app to bring York to life digitally?"