Harrogate's Nidd Gorge Jubilee Wood destroyed in mower bungle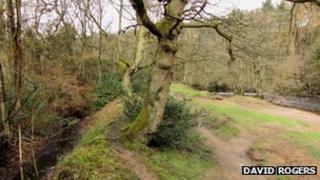 A wood created for the Queen's Diamond Jubilee has been accidently mowed down by a council workman.
The 2,000 saplings planted in December 2012 in Nidd Gorge, near Harrogate, recreated an ancient woodland.
Keith Wilkinson, chairman of the Bilton Conservation Group which planted the trees, said the workman had "turned left instead of right".
Harrogate Borough Council apologised for the error and said it would help with replanting the area.
Bilton Fields had been planted over 1.25 acres as part of a UK-wide project to plant six million trees native to Britain.
It had taken 40 volunteers about 200 hours in total and Mr Wilkinson said just two oak saplings had survived the mowing.
'Sleepless night'
The saplings were at grass level and were not protected by stakes or tree tubes because in the past this has attracted vandalism.
Mr Wilkinson said: "It was an unfortunate accident, we will have lost a year.
"I imagine the driver will have had a sleepless night, I feel sorry for him. He just turned left instead of right."
He added he would be volunteering to help the council replant the area later this year and the area would still be called Diamond Jubilee Wood.
A Harrogate Borough Council statement said: "The new tree planting had not been clearly identified resulting in the contractor unwittingly mowing across the saplings.
"The council manages this field as a meadow and mows it in this way to maintain the public amenity of the site and also to enhance the biodiversity of the species-rich meadow."