Kellingley Colliery owner fined over miner Gerry Gibson's death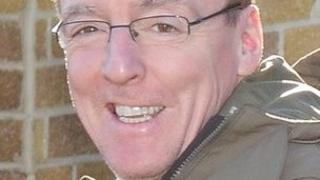 The former owners of a North Yorkshire mine have been fined £200,000 for safety failings after a miner's death.
Gerry Gibson, 49, was killed when a roof collapsed underground at Kellingley Colliery in 2011.
Leeds Crown Court heard a similar roof fall had occurred six days earlier but "insufficient precautions" were taken to prevent a repeat.
Safety failings were admitted by the administrators on behalf of the former UK Coal Mining Ltd.
The firm was also fined £50,000 over a gas explosion in 2010 which led to more than 200 miners being evacuated from the pit.
Death 'preventable'
Mr Gibson, from Sherburn in Elmet, died from asphyxiation after becoming trapped when the roof collapsed 2,600 ft (800m) underground.
Following the sentencing, his son Sean said: "Everyone who goes down the mine should come up safe and well, no man should ever go to work and not return home.
"The death of Gerry was a tragic and avoidable event. Justice for Gerry has finally been served."
Mr Gibson's widow Brenda described her husband as a "loveable man" with an "enormous number of friends".
She said his death had left her with "an enormous, irreplaceable hole in my life and my heart".
Mr Gibson's death happened six days after a similar roof collapse in the same area of the mine with the same powered roof support in operation.
The Health and Safety Executive (HSE), which brought the prosecution, said managers had not carried out an investigation into the first incident and measures were not put in place to prevent a recurrence.
The HSE described Mr Gibson's death as "tragic and preventable".
It said: "The importance of securing justice for Mrs Gibson cannot be overstated."