Harrogate homeless charity: Figures 'double those expected'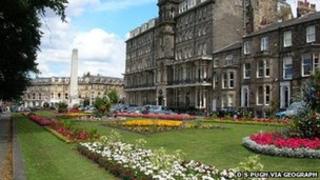 A homelessness project in a spa town has said the number of referrals in its first year is far higher than expected.
The Harrogate Homeless Project in North Yorkshire said it had received 150 referrals since the No Second Night Out project began in 2012.
The charity said the figure, double what it anticipated, was "shocking".
Harrogate is one of 18 towns and cities to pilot the scheme designed to intervene as soon as someone finds themselves homeless.
'Priced out'
Adam Kirk, from the Harrogate Homeless Project, said: "We had initially expected around 70 to 80 referrals in our first year.
"We also always expected referrals to be homeless for the stereotypical reasons such as alcohol or drug dependency.
"The most shocking thing so far has been a lot of people being referred to us are those being made homeless through relationship breakdowns or redundancy."
Mr Kirk added the desirability of the area meant finding accommodation was hard for people of limited means.
"A lot of people get priced out of the private sector. A lot of people with relatively low needs are now coming through because they can't afford to rent anything," he said.
Harrogate Borough Council said it saw about 100 people, mainly families, in need of housing each year.
Alan Jenks, head of housing at the council: "Most of the people going to the No Second Night Out project are single people and it has become much more difficult for single people, particularly those not in employment, to find somewhere to live."
About 90% of those referred to No Second Night Out have been found permanent accommodation.