Volunteers needed to clear York's streets during winter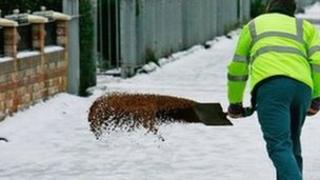 Volunteers are being sought to help clear some of York's streets of snow and ice during the winter.
The snow wardens are to be trained by City of York Council to clear cul-de-sacs and side streets and lay grit.
It is the third year the authority has recruited volunteers, who will be provided with a shovel, high visibility vest and gloves.
Councillor David Levene said: "Last winter over 140 snow wardens did a brilliant job helping to clear snow."
In 2011, the first year of the scheme, about 50 volunteer wardens were recruited.
The idea for snow wardens originated in Calgary, Canada, when a group called the Snow Angels decided to help other more vulnerable members of the community during a severe winter, the council said.