York Samaritans volunteer makes film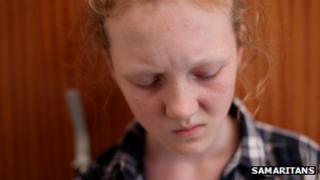 A film has been made by a York Samaritans volunteer to raise awareness about the work the charity does.
Sarah Threapleton said her film features five characters, played by members of the public.
"Articles in the local news made me wonder if York Samaritans could do more to reach out to the community," said Ms Threapleton.
The film, which cost £5,000 to produce, was funded by the Nestle Welfare Trust in York.
'Brave thing'
Kevin Curran, from not-for-profit organisation Inspired Youth, which produced the film, said: "We wanted to get away from the preconception that you have to be suicidal to ring the Samaritans.
"People sometimes just need to speak to someone, before they get to that point. It's a brave thing just to phone up and talk."
The five characters in the film face everyday scenarios that mean they need support from the Samaritans.
York branch volunteer Adam Atkinson plays a soldier suffering from post-traumatic stress disorder.
He said: "Every month, every year, we do get busier at York.
"We have had a 5-10% rise in the number of calls in the last two years."
Mr Atkinson said the York branch had about 140 volunteers and runs "an almost 24/7 service".
The film is due to be premiered at the York Reel cinema on Saturday evening.