Heron put down in Thirsk after shotgun wound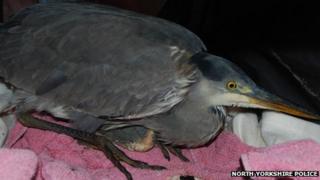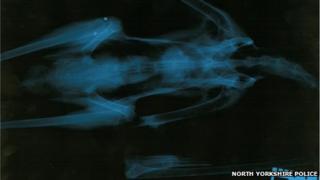 A heron has had to be put down after a shotgun pellet shattered the bird's wing, North Yorkshire Police said.
The injured bird was found by the side of the road in Dalton, near Richmond, on Tuesday and was taken to a wildlife haven in Thirsk for treatment but it could not be saved.
An X-ray showed a shotgun pellet had shattered its wing and two pellet wounds to the bird's body.
Herons are protected under the Wildlife and Countryside Act 1981.
The Royal Society for the Protection of Birds (RSPB) said anyone who kills a heron could face a fine or even a prison sentence.
Mark Thomas, an investigating officer with the RSPB, said there were a "handful" of such incidents each year and the majority were malicious.
The bird's condition when it was found meant the shooting could have occurred up to two weeks earlier, the police said.
An estimated 15,000 pairs of herons nest in the UK, the RSPB said.