Scarborough council postpones rock armour scheme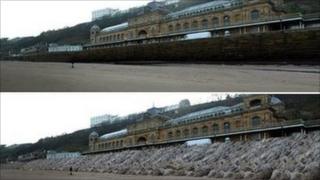 Plans to protect part of the Scarborough coast with a rock revetment scheme have been postponed.
Scarborough Borough Council said recent investigations had shown cliff stabilisation work required more immediate attention.
The original proposal was to build a rock armour revetment below the Spa complex in the South Bay.
The council had previously said to do nothing was "not an option" as existing sea defences were no longer adequate.
The authority now intends to repair the existing sea wall as well as carry out work to stabilise the cliffs above the grade II-listed Spa.
Plans for the rock armour revetment had been criticised by local conservation groups who claimed it was not necessary, despite the recent tidal surge.
Councillor Mike Cockerill said: "Whilst the rock revetment remains an acceptable viable option to reduce overtopping and improve protection for the sea wall it is important we use the time we can gain from a revised approach to explore all available options to address wave overtopping and the sea wall integrity and potential funding opportunities.
"This is even more relevant now in light of the most recent flooding incident and we will need to incorporate any information gained from last week into future management options."