Lydia Bishop died on first day at nursery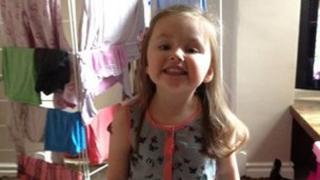 A three-year-old girl who died on her first day at nursery after getting her neck caught in a rope was not found for 20 minutes, a court has been told.
Lydia Bishop was not breathing when nursery worker Sophee Redhead found her at York College's nursery outdoor play area, Leeds Crown Court heard.
Ms Redhead, 25, denies manslaughter by gross negligence.
She also denies failing to take "reasonable care" of the girl under health and safety legislation.
York College denies failing to ensure people not in their employment are not exposed to a risk to their health and safety.
The college operated the nursery for children of staff, students and members of the public.
'Come to harm'
Robert Smith QC, prosecuting, said: "Lydia was left entirely to her own devices for what was to be a prolonged period.
"Only when a member of staff discovered she was not in the building or directly outside did anyone appreciate she may have come to some harm."
The court heard that when Ms Redhead carried Lydia into the nursery she was not breathing and was blue.
All efforts to revive her by nursery staff, paramedics and doctors at York Hospital failed.
Lydia's death in the loop of rope was "completely avoidable" had proper measures been taken to protect her, Mr Smith said.
First full day
Her mother Rebecca Dick had just enrolled on a course at the college and had been for introductory sessions with her daughter.
The day she died was her first full day at the nursery, the jury was told, and her mother was assured children were not left alone outside to play on the apparatus.
Mr Smith accused the nursery of having a "tick box mentality" towards health and safety, which meant legislation was followed on paper but not in practice.
In Lydia's age group, there were 17 children in nursery during that day and three staff, the court heard.
The case against Ms Redhead was that she saw the child walk towards the slide, but took no action to prevent her from going on it, despite knowing there was no other member of staff in the area, Mr Smith said.
The case continues.