Tyre fire crews still at Sherburn-in-Elmet recycling plant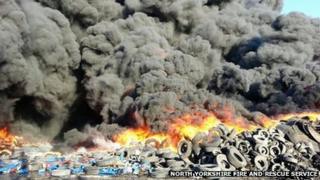 Firefighters remain at the scene of a blaze involving 15,000 tonnes of tyres at a North Yorkshire recycling plant.
The fire at Newgen Recycling Centre in Sherburn-in-Elmet on Thursday sent up a plume of smoke so thick it could be seen from space.
Fire chiefs are letting the smouldering tyres burn out but warn it could take several days.
Once extinguished, investigators will work to establish the cause of the blaze.
One of the things they will look at is whether the tyres were stored correctly.
Dave McCabe, area manager for North Yorkshire Fire and Rescue Service, said: "One of the questions we will be asking is how this fire started and why it was allowed to spread so rapidly, because what we would recommend is that a tyre dump of this nature would be split into small stacks.
"At the end of this we will be looking to see if that legislation was complied with."
'Following procedure'
Councillor Mark Crane, leader of Selby District Council, said an inspection of the site in 2013 found the owners were following the storage recommendations requested by planning officers.
He added: "We put a number of planning regulations in place for the storage of the tyres, it's clearly too early to see whether these were followed but officers did go last year and there were only minor modifications.
"At the time, [the owners] were following the procedures we had laid out."
Residents are still being advised to keep windows and doors closed and avoid unnecessary journeys.
At its height, 100 firefighters and 14 fire engines were involved in tackling the blaze at Lennerton Lane.