Quayside fish and chip shop in Whitby named UK's best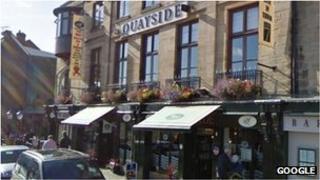 A family-run takeaway on the Yorkshire coast has been named the UK's best independent fish and chip shop.
Quayside in Whitby won the flagship award at the National Fish and Chip Awards 2014 in London, as well as the award for marketing innovation.
Judges commended the Fusco family, who own the shop, for their "commitment and determination".
The awards have been run by the government's industry authority Seafish for 26 years.
Quayside competed against 10 regional finalists.
Frankie's Fish and Chips in Brae, Shetland, was the runner-up, while Papa's Barn in Ditton, Kent, came third.
Stuart Fusco, who was also named Young Fish Frier of the Year in 2004, said: "I cannot tell you how immensely proud we are to have won."