Axed Carleton-in-Craven free school bus passes spark row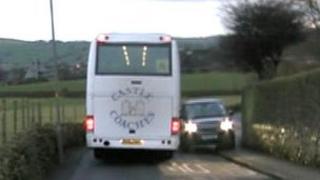 Schoolchildren's lives are being put at risk after a council axed free bus passes for some pupils, parents have claimed.
Thirty-nine children from Carleton-in-Craven have lost the free passes after North Yorkshire County Council ruled the road to Skipton was safe on foot.
Parents claim the three-mile route is dangerous and the axing of free passes is just a money-saving exercise.
A new stretch of footpath means the route is now safe, the council said.
"It was this change and footway improvement that led to the reassessment of the route as safe to walk and the withdrawal of free school travel passes," a council spokesman said.
'Terrifying prospect'
Liz Collins, whose two children have both had their free passes withdrawn, said parents in the village were "really cross" at the council's ruling.
"We firmly believe the route is not safe at all. It's not the sort of route you would want to walk.
"The pavements are narrow, it's unlit, it's frequently flooded, there's standing water and blind corners."
Parent Steve Richardson said for children to walk from the village to school in Skipton and back every day along the "very unsafe and dangerous" road was "a terrifying prospect".
The council's withdrawal of the passes was merely "a way of introducing cuts", said Mr Richardson.
"But instead of the upfront way - coming out and talking to parents and saying times are hard and we have to save money - they've decided to use health and safety legislation," he said.
In a statement, the council said while it acknowledged the "strong feelings" of parents, "a thorough and careful assessment" of the route had been carried out.
"The decision was found to be sound and reasonable and was upheld by the Appeals Committee."